Programming is possible on nearly any monitor, but most programmers prefer a big, pixel-dense, attractive screen that can render tiny code with clarity and display numerous windows at once. Prolific multi-taskers, many programmers also go all-in on multiple displays and use two or three monitors at once.
This guide will help you find a great monitor that can handle all the above—and at a reasonable price.
1. Asus ProArt PA348CGV – Best monitor overall for programming
Pros
Excellent SDR image quality 
Sturdy, hefty design 
Wide range of customization
120Hz refresh rate
Cons
USB-C hub lacks video-out or ethernet
HDR is merely passable
The Asus ProArt PG348CGV is an excellent monitor for programming—and many other tasks.
This is a 34-inch ultrawide monitor with a resolution of 3440×1440, which provides plenty of display space and pixel density for viewing multiple windows or large amounts of code. It also has a USB-C port with DisplayPort Alternate Mode and 90 watts of Power Delivery. That's great for easily docking a USB-C-compatible laptop.
Though ideal for programming, the ProArt PG348CGV excels in any task thrown at it. It has accurate color and a wide color gamut, so it's great for photo, video, and graphics editing. The monitor also has a 120Hz refresh rate and supports AMD FreeSync Premium Pro, which makes it a solid choice for gaming.
Its price seals the deal. Available for $749.99, the ProArt PG348CGV is less expensive than similar competitors. In fact, it overdelivers compared to most alternatives: Many ultrawide monitors offer similar image quality, a high refresh rate, or USB-C, but very few offer all three.
Read our full
Review Asus ProArt PA348CGV
2. Dell U3223QE – Best 4K monitor for programming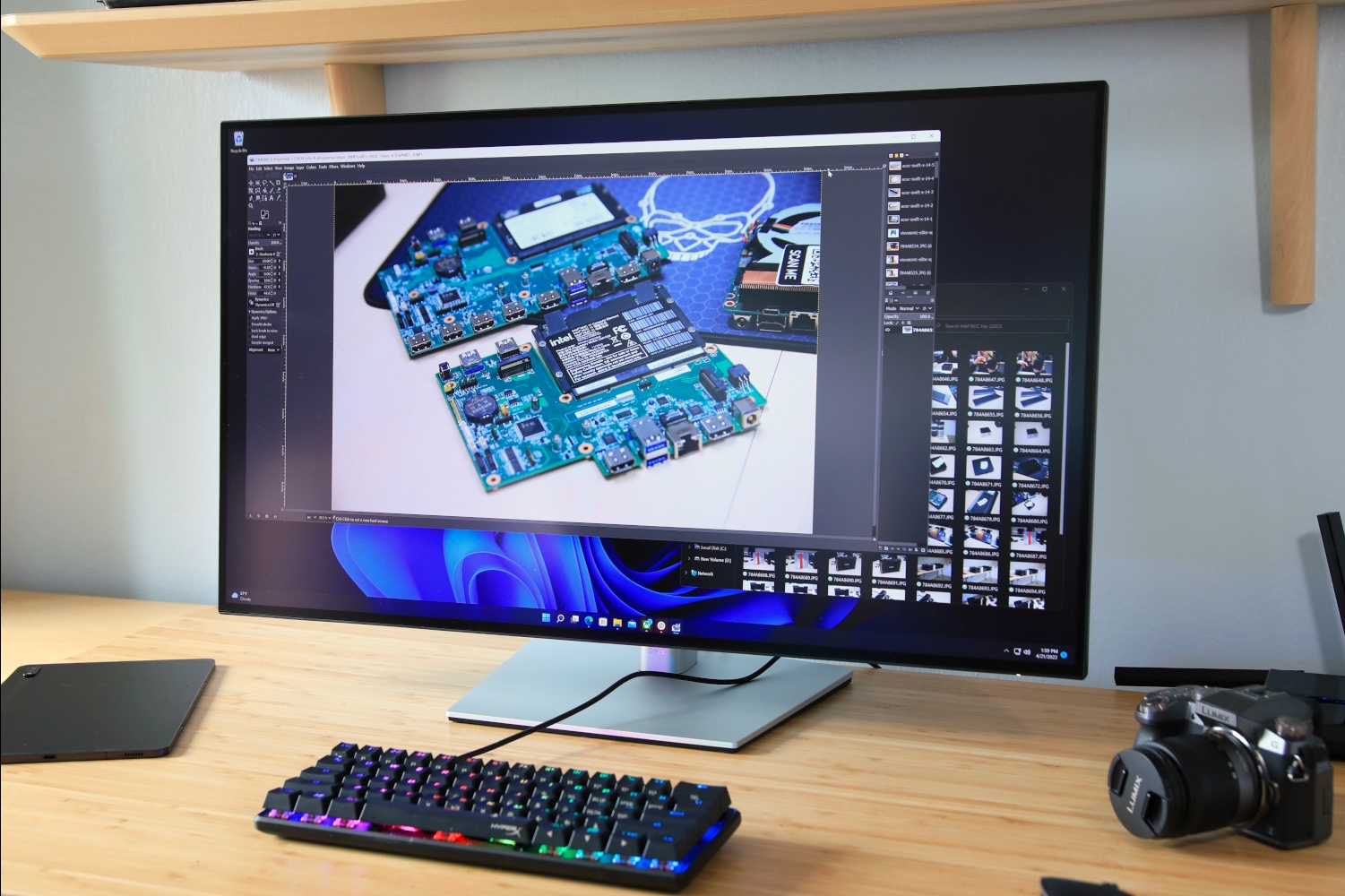 Pros
IPS Black panel fulfills its promise 
Accurate color with wide gamut 
High brightness in SDR  
USB-C hub with 90 watts of power 
Cons
Edges of display are noticeably bright 
HDR performance disappoints 
Only a 60Hz panel
If you want a standard widescreen monitor for programming, or prefer the pixel density of 4K resolution, the Dell U3223QE is a great choice.
The U3223QE is a 32-inch widescreen monitor with 4K resolution. It offers a large, pixel-dense display that's great for using four windows in a grid arrangement. The monitor's high pixel density and strong brightness make code easy to read even when individual windows are small.
Its size and resolution are supported by excellent image quality. This is among the few monitors with an IPS Black panel, which roughly doubles the contrast ratio of a standard IPS panel. The result is a richer, more pleasant image. It also has excellent color accuracy, so it's great for photo, video, and graphics editing.
The U3223QE is also among the best USB-C monitors available. When connected over USB-C it acts as a feature-rich USB-C hub with multiple USB-A ports, ethernet, audio-out, and DisplayPort-out. It's perfect for programmers who need to dock a laptop over USB-C.
Need a slightly smaller monitor? Dell also offers the U2723QE, which packs similar features into
…
Read More...
Read More