The negative sentiment in tech stocks, caused by rising interest rates, less attractive discounted cash flow models and more tepid forward guidance, is easily measured by public market valuations. And while there's lots of talk about the impact on private companies, their cash runways and 409A valuations, measuring the performance of nonpublic companies isn't as easy. Initial public offerings have dried up and public statements by private companies accentuate the good and hide the bad. Real data, unless you're an insider, is hard to find.
In this Breaking Analysis, we unlock some of the secrets that nonpublic, emerging tech companies may or may not be sharing. We do this by introducing you to a capability from Enterprise Technology Research that we've not previously exposed in Breaking Analysis. It's called the ETR Emerging Technology Survey and it's packed with sentiment and performance data based on surveys of more than 1,000 chief information officers and information technology buyers covering more than 400 private companies. The survey will highlight metrics on the evaluation, adoption and churn rates for private companies and the mindshare they're able to capture.
We've invited back our colleague Erik Bradley of ETR to help explain the survey and the data we're going to cover in this post.
Emerging Technology Survey respondent composition
The above slide shows the the breakdown of survey respondents. Erik Bradley shared following data, which summarizes the survey breakdown:
Over 1,000 respondents

two-thirds director level or above
28% C-Suite executives

Covering 450 emerging technology vendors
Private companies;
Measures awareness, evaluations, adoptions and churn
Bias toward North America (77%)
[Listen to Erik Bradley explain the background of the ETS study & its methodology].
This Breaking Analysis is structured as follows:
First, we're going to look at the high and low sentiment for the larger private companies.
Next we'll do the same for the smaller private companies, the ones that don't have as much mindshare.
After that we'll group those two together and look at three dimensions:

Which companies are being evaluated the most;
Which private firms are seeing the most usage and adoption of their offerings
Which companies are seeing the highest churn rates.

After this overview, we'll take a high-level look at sentiment and mindshare within two sectors, security and data.
The data segment will be broken down into three subsectors:

Database/data warehousing;
Big data analytics;
ML/AI.
One other note: The ETS data very often will include open-source offerings in the mix of companies, even though they're not companies. An example is you'll see adoption data for tools like TensorFlow and Kubernetes. This is done is for context, because virtually everyone is using open-source tooling and thus it provides a comparative data point. As well, many companies are building businesses around open-source platforms and this serves as a momentum indicator for the space in which they play.
Sentiment for larger private firms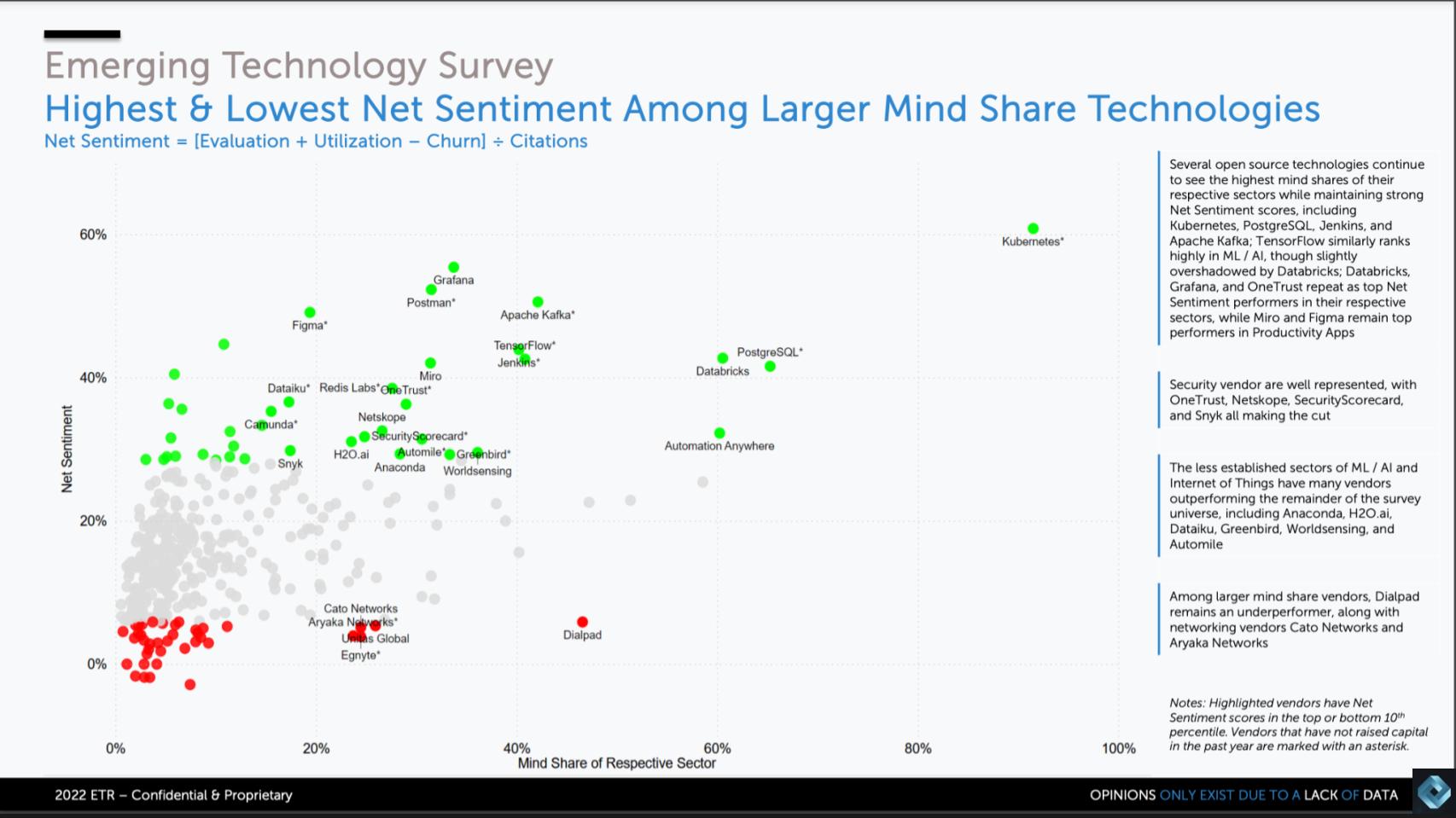 The graphic above looks at the highest (green dots) and lowest (red dots) sentiment among those private firms with the largest mindshare. The data
…
Read More...
Read More