Share this article paywall-free.
Education is increasingly becoming technology driven. The Osage Community School District is ahead of the curve in its focus on this other form of literacy.
Computer science is one aspect of Osage's efforts. Recently, its determination was honored, when Lincoln Elementary School received a CS100 School award for its commitment to providing exceptional computer science education to its students.
Lincoln was one of only two schools in Iowa to receive the national recognition.
To be eligible for the CS100 School award, Lincoln had to meet minimum requirements of teaching 10 hours a year of computer science. According to Osage media specialist and technology instructional coach Kelley Molitor, the school at every grade level spends over two hours a week coding – writing computer programs.
"We qualified very easily for it," Molitor said, adding she was very confident in Osage's application. "We do a lot of coding throughout the day. It's not a standalone here. It's infused throughout the grade levels. Coding happens during literacy, math, science and social studies."
As John Pearce, executive director of the awarding body CSisElementary believes, computer science is a literacy.
Molitor is more emphatic, stating that what is taught in Osage affects all of Mitchell County, as students eventually join the workforce and bring their skills to bear. Even agriculture is now driven by computer science. Computer science helps feed the world. The medical field is immersed in it, and what the students learn today could save lives tomorrow.
Anyone who uses a cell phone is part of the movement.
One of the instructors conveying this knowledge and these skills is Lincoln Elementary School teacher Lori Randall. It is no longer science fiction when robots assist the students in their classrooms.
"Each grade level has a different device that they master," Randall said. "It's sequential from kindergarten through grade four in our building."
By the time these students reach middle school, they are experts. Randall believes Lincoln's CS100 School award was well deserved. She sees her students coding and guiding robots through obstacle courses every day.
"We were really proud to have won that, because everyone is part of this journey," Randall said. "It's not just certain teachers. All of us are working together. We go above and beyond in this area. You're starting young with the problem solving, the computational thinking, the creativity, the communication and the collaboration. And then we keep building on it every year."
"These kids have had computers and technology in their hands since they were born," Molitor said.
STEAM
Another aspect of Osage's emphasis on technology was the STEAM Festival held last month. Exhibits filled the gyms and classrooms of the middle school and high school. STEAM is an acronym for science, technology, engineering, arts and mathematics.
Most of the elementary teachers were involved in the event. For an evening, their students became instructors.
Just inside the front door, a state-of-the-art robot dog performed tricks for kids.
Molitor helped organize the event, which was sprawling. People came from other school districts. There were drones, star labs and almost every technology conceivable. Participants could peer into microscopes and hammer nails. It was a combination of technology brought into the school from outside sources, as well as a showcase of the students' and the schools' own technological efforts.
"We have a lot of support in the community as well as around the area," Molitor said, as Iowa State University and the U.S. Army were represented, along with local businesses, the police department and the hospital.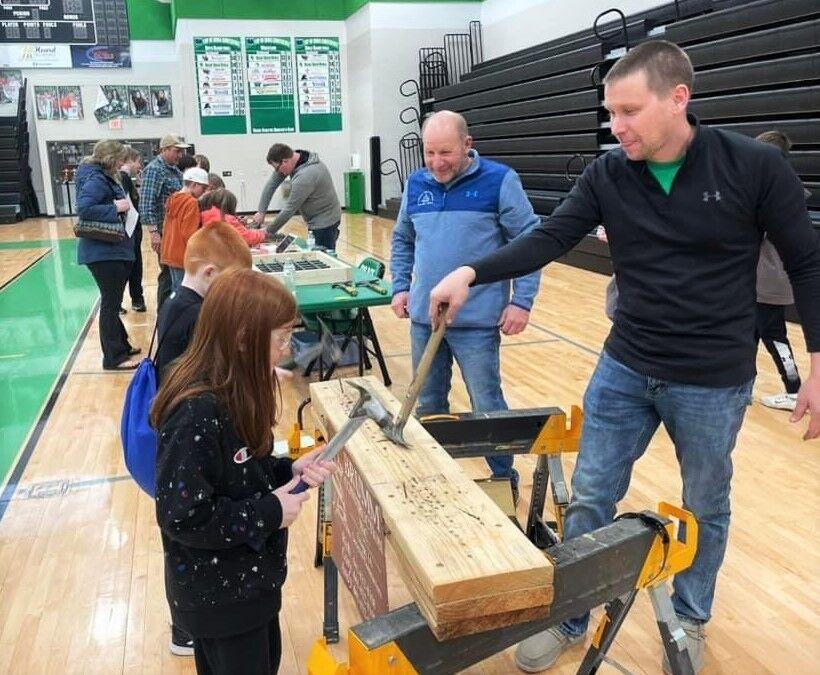 Still, the star of the show might have been the robot dog, which is an over-simplified way to describe the device. It walks on four legs with the sophistication of an animal.
Molitor envisions how that technology could translate to cyber security in a school. The robot animal could not only teach programming, but cameras could be installed and it could patrol the halls as a guard dog. The applications are endless. It is the sort of creature that ends up on Mars.
While a robot as a hall monitor is a few years out, Molitor would like one day for the school to be able to afford this sophisticated device.
The handler of the robot dog visited administration at Osage last summer. The robot uses what is called C++ programing, which is a high-level language.
"Our high school graduates who are in college now have told us we need to keep getting other languages in the high school," Molitor said of programming. "So our students can learn more before they get to college. The cool thing about this robot dog is that it could be coded in C++."
Realism in movement will soon give way to realism in thought, to what is known as artificial intelligence.
"With AI, that stuff's going to start thinking," Molitor said. "Even that robot dog would have AI, so it would recognize people. If we took the whole school, and put every photo into the dog's memory, then it would identify someone who was not supposed to be there."
"Kelley (Molitor) is great at inspiring and encouraging people," Randall said, as Molitor is a driving force in recommending technology and writing grants to afford it. To her, it is well worth the money, whether it is simple coding or a robot.
"We wouldn't be here without her," said Lincoln Elementary School instructional coach Deb Huftalin. "She knew what was coming and got us started eight years ago."
The STEAM festival highlighted not only what Osage could do, but how it could expand with more resources.
Job simulator
Another technological advancement is being shared between Osage and the St. Ansgar Community School District. It is a job simulator, which was featured at the STEAM festival. It will be operated out of the industrial technology program.
"It was a year in the making with the STEM BEST grant and other monies we could generate," Molitor said, as local businesses helped with the financing.
While some students learn best by the book, there are others who thrive outside the classroom setting, which is not unusual in a farming community, where skills are learned through practice.
Occasionally, it will help students know what they don't want to do.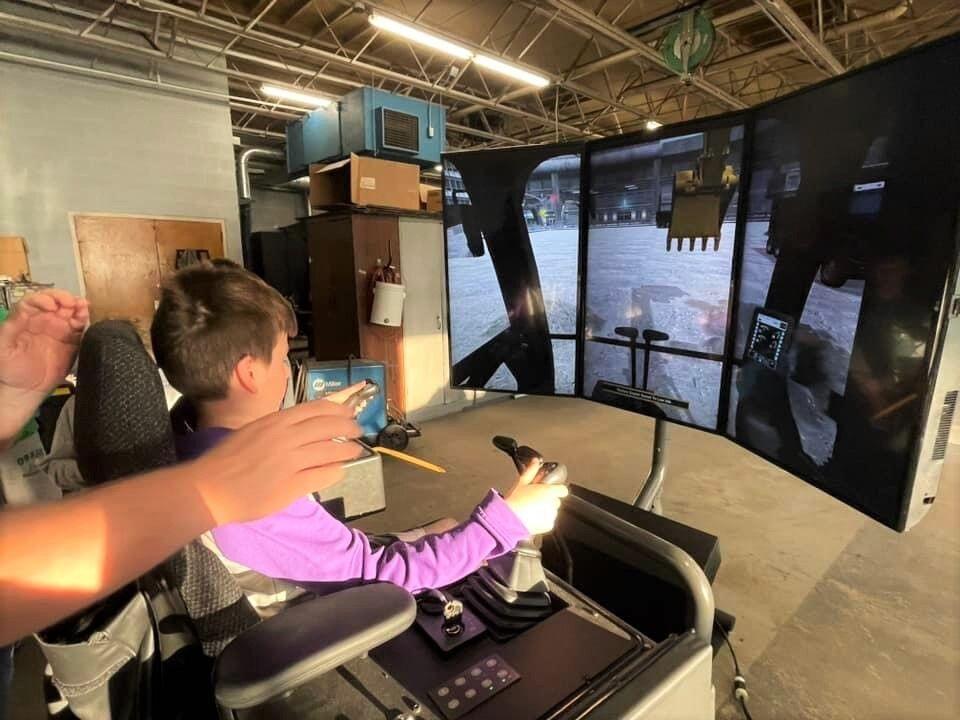 "We have a lot of kids who are hands-on learners," Molitor said. "Many businesses need kids that have the skills to do the jobs they need. The businesses are able to use the job simulator for training. They're very hopeful they'll get employees out of it."
One goal is to keep students local after they graduate. Another of Molitor's goals is to get more girls interested in hands-on occupations.
And as Molitor notes, it is better to fail on the job simulator than on an expensive piece of equipment.
"I think it's a unique opportunity," Molitor said. "I don't know of any other high school in the state that has this. As our kids learn more, we have to keep pushing them and providing what they need."
And what they need is different among different students.
"Our students are very excited about learning and infusing it into their reading," Randall said of the crossover between technology and all subjects. "It's another opportunity for them to learn in a different way, because all of them are different kinds of learners."
Big schools
While some students are more talented than others, Randall sees technology as leveling the playing field. "Because they all have to adapt to what we call being a risk taker – it may be wrong, but you can go back and debug and work on it to get it right. They're not afraid of failure. They learn from it."
"Sometimes it's the kids you don't expect," Huftalin said. "They're not always your high flyers."
"Sometimes it's the kids who are more quiet and reserved," Randall said.
Molitor also speaks of digital citizenship and online safety.
"It's one of the more dangerous times in the world because of online issues," Molitor said. "How do you keep yourself safe?"
Other much larger schools have praised Osage's program. At a conference the previous week, the superintendent of the school system in Bettendorf approached Huftalin with a heap of praise.
"She said, 'We don't do any this – this is amazing,'" Huftalin explained. "We take it for granted that we've been incorporating it for almost eight years."
"We get calls all the time," Molitor said. "It reinforces that we're doing the right things."
School systems from across Iowa come to Osage to study its commitment to technology, to learn and then implement Osage's system into their own schools. It is a testament to the vision of Osage's teachers.
"They come to see what we're doing at each grade level," said Randall. "They see the progression, how we're incorporating computer science into our curriculum."
According to Huftalin, between 80-90% of schools have a standalone teacher where students go to learn about computer science. In Osage, they incorporate those lessons into the daily curriculum, which requires a commitment from teachers at all grade levels.
"To infuse it is so much more successful," Molitor said, noting that Osage moved from the standalone model early on. "It engages kids more.
"Kids are growing up in a technology immersive world. If we don't teach them how to use it responsibly, to become creators instead of just consumers, then we're not giving them the tools they need to be successful after high school."
Jason W. Selby is the community editor for the Mitchell Country Press News. He can be reached at 515-971-6217, or by email at [email protected].