Facial recognition technology makes unlocking your smartphone a breeze.
But with the convenience, comes a disturbing new crime trend for bandits.  It involves "drug-facilitated robbery" schemers who knock their victims out with date rape drugs, unlock the victims' phones with their unconscious faces and drain their bank accounts of tens of thousands of dollars.
While robberies involving incapacitated victims are nothing new, the technology offers thieves quick and easy access to incapacitated victims.
Investigators in New York City have linked at least 43 incidents to two separate groups of suspects, according to a law enforcement source. Several of the druggings resulted in fatal overdoses, and victims have included a business traveler, a local social worker and a fashion designer.
NEW YORK CITY 'ROOFIE' SUSPECT INDICTED ON CHARGES OF GRAND LARCENY AND IDENTITY THEFT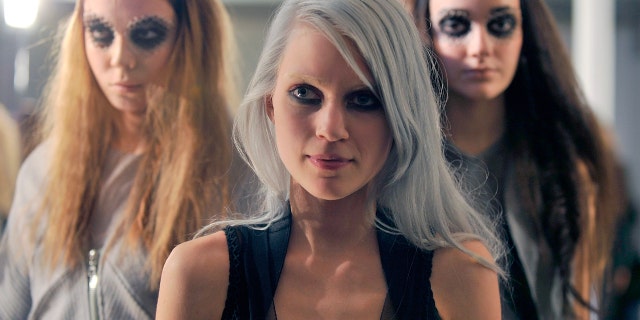 While some of the crimes involved gay male victims, a law enforcement source tells Fox News Digital that the motive is believed to be financial gain and not a hate crime.
The two groups of suspects have slightly different patterns, both involve offering drugs to the victim, swiping their phones – and then wiping out cash from their accounts after unlocking them with facial recognition and accessing their mobile banking apps. The thieves are also accused of stealing credit cards and other valuables from some of the victims.
John Kelly, a criminal profiler and psychotherapist, told Fox News Digital that the robbery rings could be considered serial killers.
"In serial killing, there is a subtype called the comfort serial killer," he said.
It's all about them seeking creature comforts. They don't kill for sex. They don't kill for power. It's all about money.

— John Kelly / Criminal profiler
The subset includes people like hit men and people who kill repeatedly in the course of robberies, he said.
"These guys are really sophisticated and pretty ruthless," he added. "They don't push it on you, they'll seduce you."
Victim John Umberger, a 33-year-old political consultant based in Washington, D.C., was found dead in an Upper East Side townhouse after leaving a Hell's Kitchen bar with two men in May 2022. Pathologists found fentanyl, p-fluorofentanyl, cocaine, lidocaine, and ethanol in his system, the city's Office of the Chief Medical Examiner said.
NEW YORKERS ENDURE RANDOM ATTACKS AS TOP COP FOCUSES ON TRUMP INDICTMENT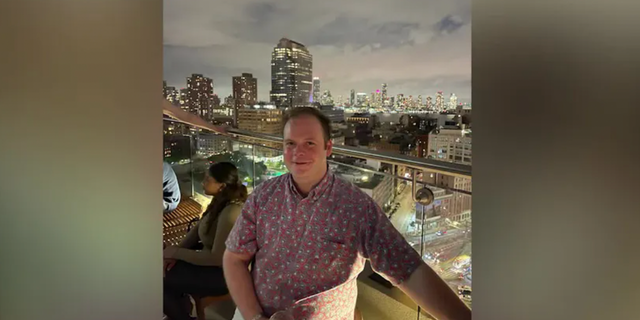 His phone and credit cards were stolen and $25,000 vanished from his bank account.
In April 2022, another man named Julio Ramirez, 25, died under similar circumstances. Police found him in the back of a taxi after he'd left a bar with a group of men just blocks away from where Umberger had spent the evening before his death. His phone and credit cards were also stolen, and about $20,000 swiped from his accounts.
He died of acute intoxication by the combined effects of fentanyl, p-fluorofentanyl, heroin, cocaine, lidocaine, and ethanol, according to authorities.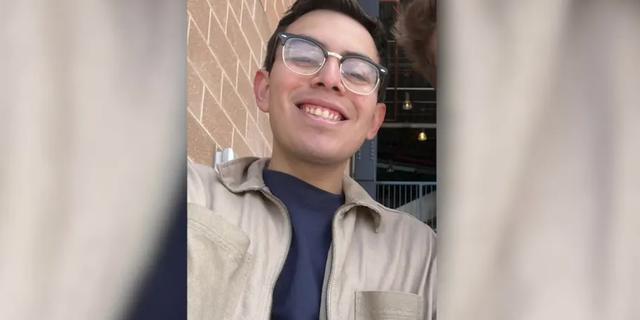 "These two homicides are being deemed part of a Manhattan wide robbery pattern," the NYPD said of Umberger and Ramirez's deaths. "There are a total of 17 incidents being investigated as part of this pattern at this time."
Last week, Manhattan prosecutors secured indictments against a group of men in connection with the deaths of Umberger and Ramirez. The suspects named included Jayqwan Hamilton, Robert Demaio, Jacob Barroso and Andre Butts.
The indictment includes charges of murder against Demaio and Barroso, along with robbery, grand larceny and conspiracy for the group as a whole.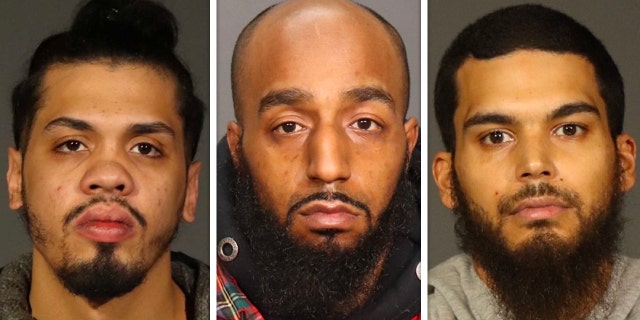 Police quickly arrested three of them, but Hamilton remained at large as of Monday afternoon, authorities said. Other names were redacted in court documents.
The group allegedly found drunk victims in bars and nightclubs, chatted them up and offered them a dangerous date-rape-style drug cocktail between Sept. 19, 2021, and Aug. 28, 2022.
NEW YORKERS ENDURE RANDOM ATTACKS AS TOP COP FOCUSES ON TRUMP INDICTMENT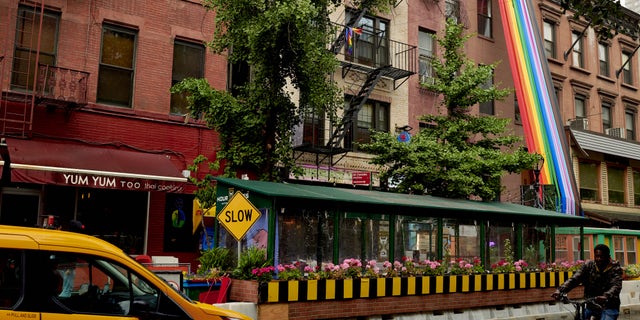 Once the victims were sidelined by drugs and alcohol and unable to recall events, the thieves allegedly stole their phones, credit cards, personal information and other property, according to authorities.
The suspects allegedly traded PIN numbers and account details over text message, used the "tap-to-pay" features on stolen phones and bought items with stolen credit cards. Not every alleged robbery resulted in thousands of stolen dollars. In one instance, Demaio was accused of sending another suspect a screenshot of an empty Venmo account.
"Nothing ther (sic) bro. It's still lit," read the next text message.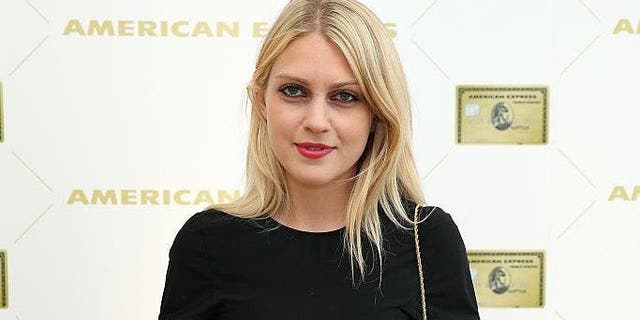 Another group suspected of similar crimes is blamed for 26 incidents, including one that led to the death of fashion designer Katherine "Katie" Gallagher, the source tells Fox News Digital.
The 35-year-old Gallagher has dressed A-list stars, including Lady Gaga, according to an obituary shared by her alma mater, the Rhode Island School of Design. She was found dead of an overdose in July. At the end of last month, police revealed that her death would be investigated as a homicide following an autopsy and toxicology report that found her death was caused by acute Intoxication by the combined effects of fentanyl, p-fluorofentanyl and ethanol.
At least two additional homicide victims have died in similar drug-laced robberies between fall 2021 and December, according to the city medical examiner's office.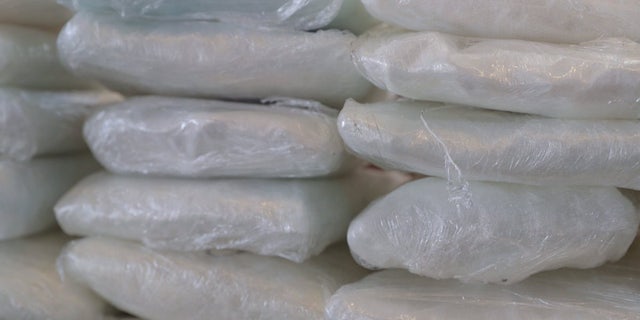 Alexander Vladimir Rudnitsky died from complications of acute intoxication by the combined effects of fentanyl, p-fluorofentanyl, morphine, clonazolam, lidocaine, and ethanol. And a fifth unidentified victim was also ruled dead of a homicide with complications of acute intoxication by the combined effects of fentanyl, heroin and ethanol.
TECH CONCERNS
Facial recognition technology has already proven a controversial new product. It is used by law enforcement to help identify suspects, and occasionally to unlock the phone after a person is taken into custody. But it poses other security risks, especially in the cases of the "roofie" robbery victims and if facial recognition databases are hacked.
The Information Systems Audit and Control Association, or ISACA, is an international trade group for IT professionals that recently warned of serious security issues with facial recognition.
WATCH: How to prevent Google from using facial recognition again
"It is an extremely intrusive form of surveillance and can seriously undermine individual freedoms and, ultimately, society," data protection expert Hafiz Sheikh Adnan Ahmed wrote in an ISACA newsletter in December.
"Unlike many other forms of data, faces cannot be encrypted," Ahmed wrote. "Data breaches involving facial recognition data increase the potential for identity theft, stalking, and harassment because, unlike passwords and credit card information, faces cannot easily be changed."
CLICK HERE TO GET THE FOX NEWS APP 
Fox News' Rebecca Rosenberg and Sarah Rumpf contributed to this report.